ART CLASSES
Salli Babbitt is an abstract art instructor. She has been teaching for over 20 years with abstract and encaustic art as her specialties. Salli is a CERTIFIED GOLDEN ARTIST EDUCATOR for GOLDEN PAINTS. She has been recognized by the City of Bellaire, City of Houston, the Bayou City Art Festival, The Art League Houston, Houston Rodeo, Cow Parade, Texas Gulf Surfing Association, Surfrider foundation and other organizations for her art projects and art abilities. She has taught many students who have gone on to be in major galleries and also continues to privately mentor other well known artists. She has had major exhibitions in Houston and other countries. She continues to work on new cutting edge projects daily.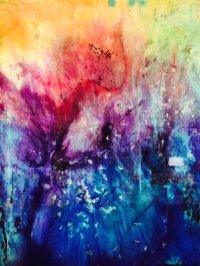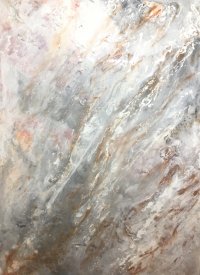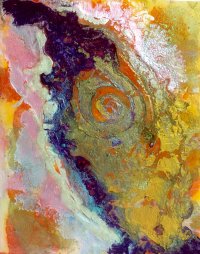 Salli Babbitt's Houston Classes are as follows:
Absolutely Abstract Art Classes with Salli
Art Supply - 2711 Main Street (in midtown)
All classes run consecutively and there are no makeups except by arrangement with the Instructor.
FALL SESSIONS - beginning August 15th
This Fall will be filled with new lessons and techniques! Learn acrylic transfer and collage method and the latest scribble technique is a must! In addition, we will be learning to use Brush-o and several other new products on the market. Choose your payment plans and we will see you in August!
Session options will be as follows:
Tuesday 6-8:30PM
OR
Thursday 10-12:30PM
Payment Options:
If you pay for 4 classes it will be $160 each month: Register Here
If you pay for 8 classes, it will be $296: Register Here
If you pay for all 12 classes, it will be $420: Register Here
***Once you have registered, please email me so I can send you a supply list! Can't wait to see ya'll in class!***
SATURDAY CLASSES
(Mixed Media or Encaustic) Saturday from 10:00 am to 12:30 pm unless specified below
Abstract Bubble Bliss
September 9th, Saturday
This class will take a new spin on the classic "Pour" technique! (we will still cover the entire technique, so no prior knowledge of the Pour is necessary). Students will apply Golden fluid acrylics utilizing the Pour technique. We will then create bubbles and rings of fantastic colors over each abstract piece. The bubbles and rings juxtapose the abstract flow of each painting to create work that will capture the imagination!
Very limited seating! RSVP to: sallibabbitt@yahoo.com
ALL inclusive, just bring your smile $100.00
Art Supply 2711 Main St. 77002 10am to 12:30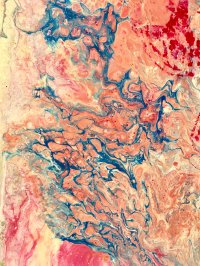 Resin from Hell
September 16th, Saturday
Using a variety of elements, including but not limited to Art Resin, Golden mica flakes, micro beads, large mica, glitters, and 6 mm plastic, students will create free-form funky fresh artwork. This can be peeled off of the plastic and riveted to hang, or could be cut to size for a box. You will love this free abandonment idea!
Very limited seating! RSVP to: sallibabbitt@yahoo.com
ALL inclusive, just bring your smile $100.00
Art Supply 2711 Main St. 77002 10am to 12:30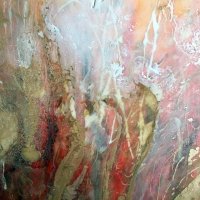 Rock and Roll!
October 14th, Saturday
We will be using rollers, a new tilting technique, and Golden metallic colors to create pieces perfect for Fall! The warm metallic colors and interesting textures created in this workshop will be perfect for sales or gifts in the next couple months to come!
Very limited seating! RSVP to: sallibabbitt@yahoo.com
ALL inclusive, just bring your smile $100.00
Art Supply 2711 Main St. 77002 10am to 12:30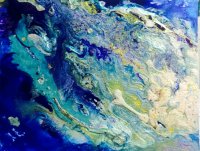 Burn Baby Burn
October 21st, Saturday
Learn to utilize wax, foreign elements (found objects), and metallic powders to create fascinating works of art. We will then shellac each piece and set them on fire, yes fire! This creates the most fascinating of textures and colors. No two will be alike, and everyone will have a beautiful piece to take home.
Very limited seating! RSVP to: sallibabbitt@yahoo.com
ALL inclusive, just bring your smile $300.00
Art Supply 2711 Main St. 77002 10am to 3:00pm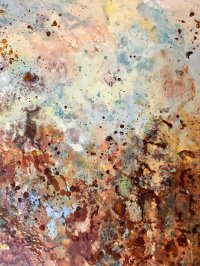 Abstract Ombre
November 11th, Saturday
Who doesn't love a beautiful ombre piece? This class will have each student utilize several shades of Golden fluid acrylic color to create gorgeous ombre works. We will then spray our gradient works with water and move our canvases to cause the paint to flow and move into beautiful patterns! As an added treat, we will have metallic powders and… GLITTER! The perfect way to add a bit of sparkle to our beautiful work!
Very limited seating! RSVP to: sallibabbitt@yahoo.com
ALL inclusive, just bring your smile $100.00
Art Supply 2711 Main St. 77002 10am to 12:30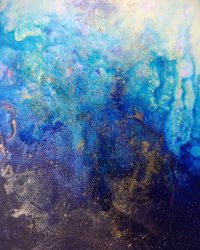 Abstract Resin Blossoms
November 18th, Saturday
First, we will focus on building abstract backgrounds with a mixture of Golden and FW paints. Then, the students will apply paint-infused resin over each background in order to create the idea of blossoms in a meadow.
Very limited seating! RSVP to: sallibabbitt@yahoo.com
ALL inclusive, just bring your smile $100.00
Art Supply 2711 Main St. 77002 10am to 12:30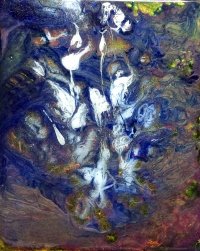 The Pour
December 2nd, Saturday
This class will focus on teaching students how to choose and combine colors to create spectacular abstract works. We will be using Golden fluid acrylics and applying them to each canvas using the Pour technique. Every painting we create will be a one-of-a-kind surprise, sure to impress any audience!
Very limited seating! RSVP to: sallibabbitt@yahoo.com
ALL inclusive, just bring your smile $100.00
Art Supply 2711 Main St. 77002 10am to 12:30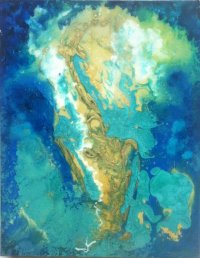 Resin Holiday Bling!
December 9th, Saturday
We will utilize Golden paint-infused resin with Mica and Glitter mix! You will also have chunky mica and a variety of glitters at your disposal! Wow, TOO MUCH BLING! This artwork is sure to shine and welcome the holiday season!
Very limited seating! RSVP to: sallibabbitt@yahoo.com
ALL inclusive, just bring your smile $100.00
Art Supply 2711 Main St. 77002 10am to 12:30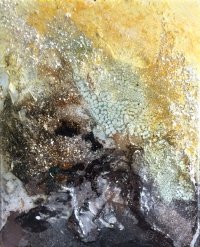 PRIVATE CLASSES
$100.00 per hour (your studio, art supply studio, or art supply studio, call Salli for details on location)
Register Here