ART CLASSES
Salli Babbitt is an abstract art instructor. She has been teaching for over 20 years with abstract and encaustic art as her specialties. Salli is a CERTIFIED GOLDEN ARTIST EDUCATOR for GOLDEN PAINTS. She has been recognized by the City of Bellaire, City of Houston, the Bayou City Art Festival, The Art League Houston, Houston Rodeo, Cow Parade, Texas Gulf Surfing Association, Surfrider foundation and other organizations for her art projects and art abilities. She has taught many students who have gone on to be in major galleries and also continues to privately mentor other well known artists. She has had major exhibitions in Houston and other countries. She continues to work on new cutting edge projects daily.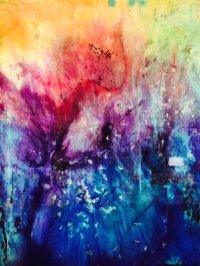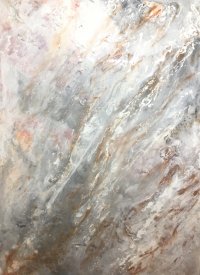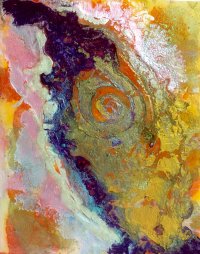 Salli Babbitt's Houston Classes are as follows:
SPRING semester runs for 12 weeks from end of January through April
Tues 6:00 to 8:30 NITE OR
Thurs 10:30 to 1:00 DAY
We will work thru those crazy pours and move on to enhanced color combos with organic ideas of fauna and flora-huge this coming year! There will be ethereal abstract landscaping added to your repertoire!
Color ,color, and more color schemes! Lots of collage,montage, and assemblage!
Lots of combing textures and scribbling!
Join us for some fun and education in a relaxed atmosphere.
15 minute demo every class!!!
Basic supply list will come with your free registration. No lab or building fees! Pay via venmo/check/cash/paypal.
***Once you have registered, please email me so I can send you a supply list! Can't wait to see ya'll in class!***
Encaustics Running Wild!
February 24th, Saturday
Paper, paper, paper! But this isn't your ordinary, every day paper- or at least it won't be when we are done with it! Students will learn how to use wax, Brush-O, graphite, watercolor, and paper to create the most fantastic Encaustic Artwork! Tell a long story, and MELT IT!
Very limited seating! RSVP to: sallibabbitt@yahoo.com
ALL inclusive, just bring your smile $100.00 Aprons $12.00 in the classroom
Art Supply 2711 Main St. 77002 10am to 12:30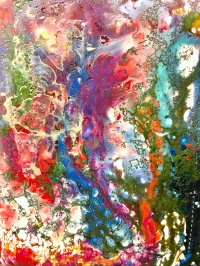 Intertwined Inks
March 3rd, Saturday
Luxury, Bling, Shine, SPARKLE! Students will utilize luxurious gold tones, bronze, and brass intertwined with hues of red and blue. Create your one of a kind masterpiece with all the shine of royalty.
Very limited seating! RSVP to: sallibabbitt@yahoo.com
ALL inclusive, just bring your smile $100.00 Aprons $12.00 in the classroom
Art Supply 2711 Main St. 77002 10am to 12:30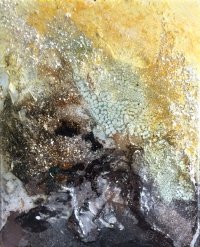 Mixed Media Madness
March 10th, Saturday
Talk about MIXED media! Students will learn how to mix a variety of collage elements, Resin, Golden Acrylics, Acrylic Inks by Pinata, and contour lines to create wild signature pieces that will compliment each other like a charm! No two will be alike- learn to create YOUR signature look!
Very limited seating! RSVP to: sallibabbitt@yahoo.com
ALL inclusive, just bring your smile $100.00 Aprons $12.00 in the classroom
Art Supply 2711 Main St. 77002 10am to 12:30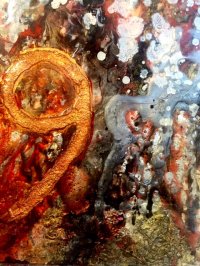 Scintillating Cell Spectacular
April 14th, Saturday
This class will take a new spin on the classic "Pour" technique! (we will still cover the entire technique, so no prior knowledge of the Pour is necessary). Students will apply Golden fluid acrylics utilizing the Pour technique. We will then create bubbles and rings of fantastic colors over each abstract piece. The bubbles and rings juxtapose the abstract flow of each painting to create work that will capture the imagination!
Very limited seating! RSVP to: sallibabbitt@yahoo.com
ALL inclusive, just bring your smile $100.00 Aprons $12.00 in the classroom
Art Supply 2711 Main St. 77002 10am to 12:30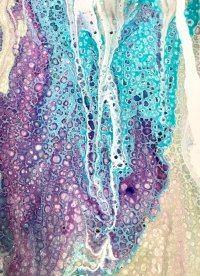 PRIVATE CLASSES
$100.00 per hour (your studio, art supply studio, or art supply studio, call Salli for details on location)
Register Here